Are you planning to launch your very own e-commerce website ? That's a great idea! Nearly 2.14 billion people all around the world are shopping online these days, and the number is only increasing with every passing year. Hence, opening an online store can turn out to be a pretty lucrative business opportunity.
However, starting an online retail business is not an easy job. After all, just some pretty web design and SEO won't really help your e-commerce store stand out and make sales. You need to do more than that. In this article, we will show you the eight things you must remember while launching your e-commerce store to start with a bang!
Choose the Right E-commerce Platform
If you're planning to build a solid e-commerce website, you need to choose a solid hosting platform. A hosting platform will help you manage your store's graphical, text, and marketing documentation with ease.
It can help you add new products, update the existing product information, or make any other changes that are crucial to your online store. It can also help you integrate multiple supporting apps and allow your employees to address customer support issues.
In short, no matter what feature you need in your e-commerce store, choosing the right platform makes it easier to implement the changes.
Plus, the platform you select to host your e-commerce store also directly affects the cost of using many important features like hosting fees, add-on fees, payment gateway charges, etc.
Some of the most popular and most-used e-commerce hosting platforms are Shopify, BigCommerce, WooCommerce, Magneto, PinnacleCart, etc.
Set up a Secure Payment Gateway
Having a solid payment gateway means a smooth transfer of funds for your online business and secure transactions for your customers. It helps you build trust with your prospects and existing customers.
People want to make their purchases from online stores that guarantee that their transaction details won't be stolen.
This allows them to shop with more comfort and helps the e-commerce websites in India gain more and more loyal customers who feel secure doing business with you.
Also, an integrated payment gateway that can accept both domestic and international payments can help you sell your stuff all around the globe.
Usually, e-commerce platforms come with an integrated payment gateway that allows you to set up multiple payment methods. If you are using a custom website, you can hire an expert to integrate the payment gateway into your website.
Make Sure Your Website is Designed to be User-friendly
These days, people use search bars even on a blogging website. So, if you're running an e-commerce store, your website's search bar should be able to do something much more than the generic search bars from blogging sites.
For example, you can add an advanced feature where it can automatically suggest a list of products to the visitor once they start typing anything in the search bar.
Your menus should be structured well, and two separate product categories must not overlap with each other. In short, design your website in a way that is pleasing to the eye and easy to navigate. You can never underestimate the importance of user-friendliness in e-commerce sites. After all, it's something that can easily determine the fate of your business.
Proper Product Showcase and Product Descriptions
When people buy things online, they are unable to interact directly with the product or ask a salesperson about the product specs. So, how else would they know what they are buying?
The answer is simple – high-quality product images, videos (optional), and comprehensive product descriptions. As they can't see or feel the product directly, high-quality product images and well-written product descriptions help them make the final purchasing decisions.
Do you sell clothes? Add the sizes, measurements, texture, and material details. Selling camping equipment? You must describe every camping product's features, material details, durability details, and more. If you're selling skincare products, don't forget to add the list of ingredients and usage details for the customers.
Clear and concise product descriptions and crisp product images will help your customers understand more about your product. This will increase your e-commerce website's sales and decrease the return rate.
Don't Forget About the Shipping and Return Policy
A shipping and return policy is just what it sounds like. It states how long it will take the product to be delivered to a customer after they order it and the return conditions if the product isn't up to par. Anyone who has ever made an online purchase has probably checked the store's return and shipping policy at least once.
Here's a list of reasons and facts that states the importance of e-commerce shipping and return policies:
It clearly states how many days it will take for the product to be delivered to the customer's location and clearly mentions the shipping charges.
The policy mentions if the products cannot be delivered to a particular location.
Since the customers already know about the store policies, it builds customer trust. After all, the prospects already know what to expect if they make a purchase on your website.
It reduces customer emails and calls.
The policy protects your online store from unjustified disputes.
So, make sure you write a clear and simple shipping and return policy. It will increase your sales, build customer trust, and decrease the return rate.
Build a Solid Marketing Strategy
No matter if you're opening a brick-and-mortar or an online store, having a solid marketing strategy will help you get your first customers faster and slowly increase your sales. These days, simply running PPC ads won't make the cut. You have to engage with your customers on several channels and social media platforms to build trust and show why your products are something that they need.
You can achieve it by carefully drafting a solid marketing strategy that includes email marketing, social media marketing, SEO, search ads, etc.
The e-commerce website must have a solid marketing funnel that attracts qualified leads and convert them. This way, you can maximize your revenue while spending the marketing budget efficiently.
Provide a Solid Customer Support
Launching an e-commerce store is not all sunshine and rainbows. No matter how perfect the technology is, sometimes, online transactions might not go smoothly for the customers. They might even have several questions before they make the final purchase decision. It's natural and inevitable.
When your customers or prospects have an issue, like difficulty in finding the right product for their needs or if they have a problem with one of the products they have purchased, you need to reach out to them to help them with their troubles as soon as possible.
That's why you must make it easier for them to reach you by providing various contact options like:
This way, the customer can contact you using their preferred communication options.
Not only that – you also need to make sure that you provide friendly customer support. Don't let your customers wait for too long once they contact you. Train your e-commerce website support staff well so they can fix customer troubles efficiently.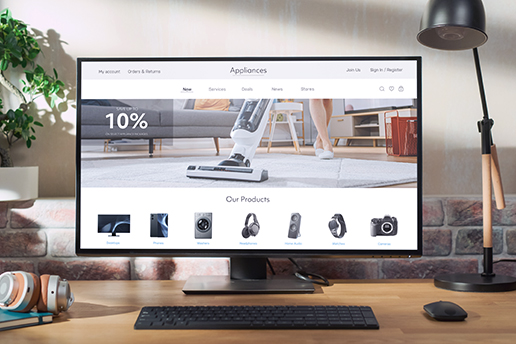 Monitor and Analyze Your Website's Performance
So, your e-commerce site is up and running, and you have decent sales. But how would you know if your e-commerce site is making the maximum amount of sales it can?
Well, you can't. Nobody can. However, you can still figure out how to improve your store's performance and get more sales.
How?
You can do it by monitoring your website, running A/B tests on a regular basis, and analyzing your website's past performance. This way, you can figure out exactly what changes you need to make to increase your revenue.
Do you need to place your CTA button somewhere else? You probably need to rephrase the "Shop Now" option or change the colour of the CTA button. Do you probably need to target a different set of audiences to increase your ROAS?
Don't underestimate the importance of testing e-commerce website features and other things to modify your website and marketing plan. Only by doing this will you be able to constantly improve your business's performance.
Wrapping It Up
Building a successful e-commerce business is not an easy job. You need to take multiple things into consideration before you can launch your online store. And you can't sit still even after launching it successfully.
Make sure you utilize the tips we have mentioned in this article to make sure the e-commerce website launch in India is easier and gets more sales.