Whew! Things were far too simple when businesses just had brick & mortar stores to sell their products. All you had to do was choose the right location for your shop, and half the battle was instantly won. Customers would simply walk in. A few salesmen with the gift of gab would do their job, and you had the cash registers ringing throughout the day.
Cut to the present digital age, where online businesses rule the roost. It's the website that is the face of your business. The website should provide an excellent experience for all visitors to make them come regularly and also recommend the products to others. It is the most valuable digital asset for the company on the internet.
If you know how to use the website effectively, you can generate a high ROI and turn it into a cash cow for your business. Here are some simple hacks to improve your website's ROI.
#1: Understand the Importance of ROI
Only that which gets measured can be managed. ROI is the best metric to measure any investment. The same holds true for a website. It is a business asset that helps to generate leads, enhance brand awareness, and deepen customer engagement through helpful content. So calculating the website ROI is essential for the following reasons.
It helps to design a marketing strategy that is flexible & dynamic. Whether the business goal is shoring up revenues or improving brand awareness, the ROI figure can easily assess the performance.
It is helpful in drawing up the marketing budget. A falling ROI can point toward lower customer engagement or declining brand popularity. You know the specific areas to focus your marketing spend.
A positive & rising ROI validates the effectiveness of your broad marketing strategy. A negative & falling ROI compels you to initiate changes in the strategy.
#2: Popularity Does Not Always Translate to Profits
A million followers on your social media channels or a million views on the latest promotional video is fantastic. But beyond making you feel good, ask yourself whether they translate into anything meaningful for the business. Vanity metrics do give a booster shot to the brand's fame and the owner's ego. But it is futile if they cannot contribute to the revenue stream in the long run.
Instead, the focus should lie on engagement metrics. This helps you determine the impact of your website (and social media channels) on customer behavior. Once you figure out how potential customers engage with your brand, you can tweak your marketing strategy suitably. Some of the standard engagement metrics are conversion rate, social media content shares, blog post comments, etc.
Social media followers and page views do not always translate to brand engagement and business revenues. Think whether a specific measurement can help the topline growth in any manner. It is important to track metrics that are closely related to sales.
#3: High-Quality Website Copy
The content on your web pages must be neat, precise, relevant, and complete. A good website copy attracts customers and drives sales. A lousy copy repels them with a bad user experience. Emphasis on quality rather than quantity of content is essential. Try to say more to your customers with the least amount of words. Let the message touch their hearts.
Design a website copy that resonates with your customers. Let the content be user-centric. Elaborate on how your products can resolve their issues in the best possible manner. An excellent website copy can boost the ROI as it provides several advantages:
Drives more traffic to the website
Enhances brand awareness in the market
Is more SEO-friendly
Improves the conversion rate
Deepens customer engagement & loyalty
Today, over 70% of customers like to understand a business through its content rather than advertisements. A high-quality web copy gives users the information to address their problems and helps them understand your business. Adding testimonials from your valued customers can have a phenomenal impact on your business. The website should be well-optimized for mobile devices.
The website content can be a mix of text, images, and videos. Keep the website dynamic & updated. Ensure you have an attractive CTA on your website to drive more conversions. A live chat feature on the home page shows that you care for users' problems. Provide multiple payment options for the benefit & convenience of customers.
#4: Brand Resonance is Important
Although it sounds a bit esoteric, brand resonance does impact sales in a big way. It defines the kind of relationship that you enjoy with your customers. Trust is the cornerstone of any business. It's much easier to sell to people who can understand and relate to your brand. Just think of your favorite brand for a moment and pause to see how it feels. Why do you keep buying its products repeatedly? Now, what do you think about the brand you despise? What are the reasons for the same?
Let customers know the people behind the brand and why they chose this journey. The brand values should also be clearly articulated on your website. It can be innovation, support to local groups & communities, women empowerment, sustainable lifestyle, or any such thing that fits your business.
Customers should clearly know what you stand for. It should be evident through your everyday activities and offerings. If the company has an interesting origin, share the story with people to communicate your ideas & passion.
#5: Leverage the Power of Remarketing
Not every visitor to your website converts on the first visit. Many people visit the website and leave without taking any action. A few may add items to the cart but do not buy instantly. Convincing people to buy your product may take a while, despite their needs and intent. The best part is that you know that someone is interested, and you can target them again with your offer.
Several studies report that customers are 70% more likely to convert through retargeted ads. Remarketing offers a second chance to convert or retain your customers. The retargeted ads serve to remind customers that they are looking to buy a particular product. They will likely end up buying when they see the ad again.
A remarketing campaign can be set up on your website through a process called pixel installation. A small percentage of your website traffic converts into sales. Remarketing is the best choice to capitalize on this vast potential.
Some of the ways in which remarketing can help to enhance the website's ROI are:
Reduce the loss of potential customers through continuous engagement
Boost conversion rates by retargeting users who are most likely to convert
Creation of customized ads to target high-value prospects through the study of user behavior & preferences
Reduction in the cost of acquisition due to efficient targeting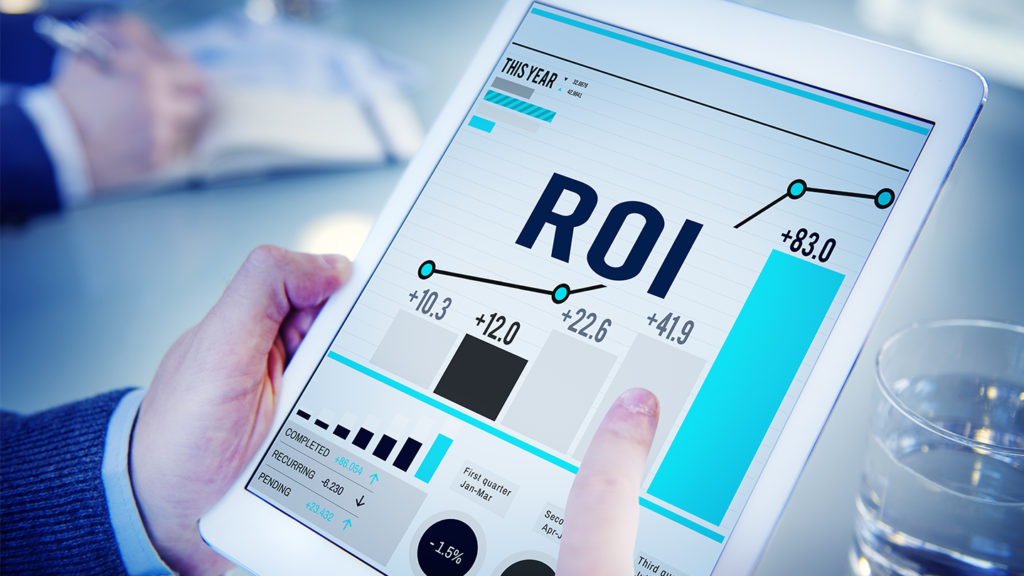 #6: Use of Automation & Advanced Tools
A lot of repetitive tasks that consume resources can be cut using automation. Lower cost inevitably boosts the ROI of your online business. It is also essential for the website to be visually appealing, user-friendly, and fast loading.
Some of the advanced tools that can improve the performance of your website and boost the ROI are:
Google Analytics
BuzzSumo
Hubspot
Grammarly
Canva
SEMrush
Conclusion
Website is the most valuable asset in the digital space for any business today. Just like any other investment, you can effectively use this asset to drive business growth. The return can be manifold if you employ the right strategies & tools to exploit its full potential. Adopting a systematic approach is critical to generating a high ROI on your website.